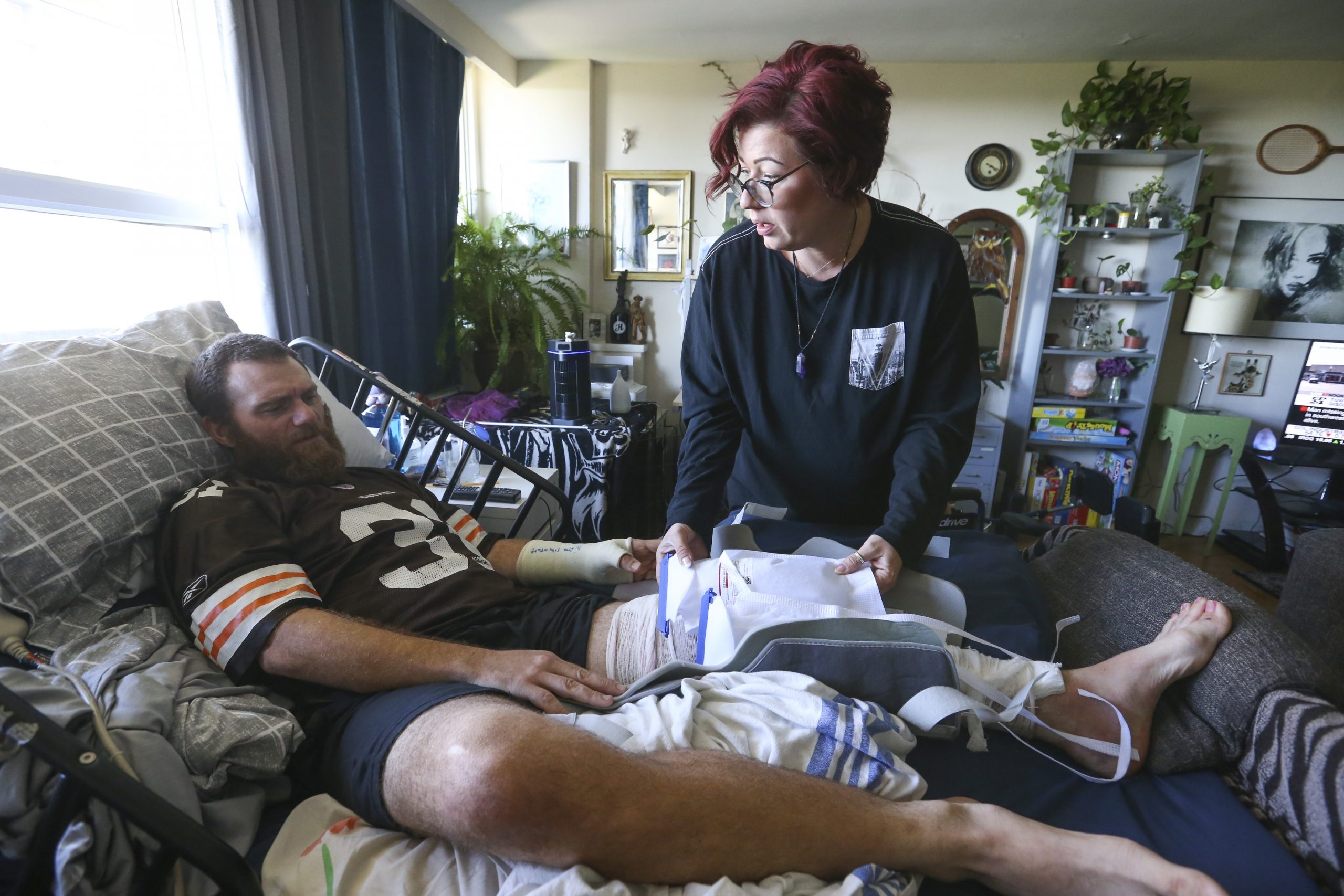 WARMINGTON: Would-be killer 'hunting' man with car now hunted by cops
Article content
A killer doesn't always use a gun when attempting to murder somebody as Justin Smith experienced first-hand.
Article content
A car can be a deadly weapon too.
Article content
"I am just lucky to be alive," Smith said Friday.
The driver who ran over the soon-to-be-40 husband and father of twin nine-year-old boys shattered his left leg and wrist, which landed him on the operating table for two surgeries and has taken away his ability to work for perhaps a whole year while he focuses on healing.
But one thing the two unknown assailants did not take away from the Canada Post mail carrier is his memory.
"If I saw them, I would know them right away," Smith said from his make-shift hospital bed in his Etobicoke apartment building overlooking the spot he was run down on Aug. 26.
You don't forget the faces of people trying to kill you. And kill him is what the driver of this silver Honda Civic circa 2005 was apparently trying to do.
Article content
It all started in the parking lot of the nearby Westway Plaza at Kipling Ave. and Dixon Rd.
"I was getting supper for my family," recalled Smith. "I had no idea my life was going to change forever."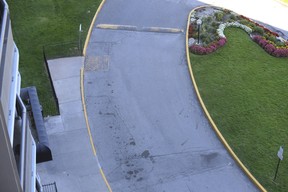 At the plaza a car was illegally parked in a fire route to which Smith said he chirped to the driver "nice place to park" with a profane flourish thrown in. While he now wishes he "didn't say anything," what happened next is dark and disturbing.
"He followed me home," Smith said.
The driver and a female passenger cursed at him at an intersection, then went into Smith's building complex and drove around looking for him.
"He was hunting me," Smith said.
Moving his car to the front of the building, he got out to tell the guy to leave and that's when his nightmare unfolded.
Article content
"I heard the engine rev and the next thing I know I was on top of his car and then thrown off about 30 feet to the ground," Justin said. "I remember hearing the windshield smash and then the pain I was in."
"I looked at my leg and it was like a pancake. There was blood everywhere," he added.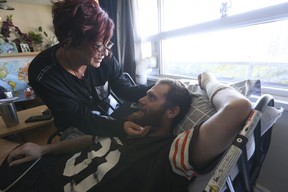 The bedridden Smith, who hopes to recover and one day walk again, is still in "excruciating" pain every day as the bills pile up since his wife of 16-years, Magda Szozda, is forced to stay home from her job to be his main caregiver.
Friends and family set up a GoFundMe page in an effort to raise money to help Smith.
Fighting back tears, Szozda said it was "worst day of my life … I was so worried about him and about our two boys who need their dad."
Calling Smith her "big lumberjack," she said the people who did this misunderstood her husband's larger-than-life but harmless personality and took things too far.
Article content
The car took off, never to be seen again. But this could soon change.
"Police tell me they have upgraded the charges to attempted murder," Smith said.
RECOMMENDED VIDEO
Police say it's only a matter of time until they track down the culprits.
"They should contact a lawyer and turn themselves in," said Supt. Ron Taverner, of 23 Division, keeping his cards close to his vest.
What the male driver and female passenger of the car don't realize is there have been some developments in the investigation. Not only is there lots of video that captured the suspect vehicle, investigators also know what businesses the female was in while the man in the Honda was waiting for her.
Search warrants can take time but they eventually help police put the puzzle together.
"I call her the Achilles heel," Smith said of the woman.
It's only a matter of time until police identify her from bank cards followed by a knock on the door.
While they have taken away Smith's mobility for now, they may soon have something taken away from them too — their freedom.
Denial of responsibility!
Trusted Bulletin is an automatic aggregator of the all world's media. In each content, the hyperlink to the primary source is specified. All trademarks belong to their rightful owners, all materials to their authors. If you are the owner of the content and do not want us to publish your materials, please contact us by email –
[email protected]

tedbulletin.com
. The content will be deleted within 24 hours.